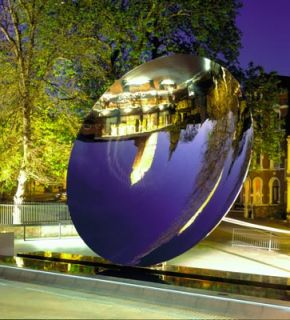 Julian
OPIE
"Kiera Walking" Anish KAPOOR "Sky Mirror"
If you do not go to the
Paris FIAC
, you're a dead person, done for, zits, nil, nothing, zero.
This edition of the
FOIRE INTERNATIONALE D'ART CONTEMPORAIN
will be on this world's
"it list" .
194 galleries from 24 countries
.
Go, and then we can discuss the subject.
PARIS is becoming the "IT CITY" with it's 4 five stars palaces opening this season, with Larry
GAGOSIAN
electing Paris for his new Art Gallery, the
BIENNALE DES ANTIQUAIRES
has been a smashing hit. How good it feels to be "IN".
From 12 am till 8pm from thursday October 21st to sunday October 24, the
GRAND PALAIS
will open its doors to thousands of the art consumer, to the wannabees, to the queer arty party and to us all ....
Opening at 12 gives you all the time in the world to be wide eyed and to blast your energy down the while concrete alleys of the FIAC , then a stop for lunch would be highly called for; last year we went to
THIOU
across the Seine to get another bunch of people to see but this year we might have a go at
MARKET
on the avenue Matignon: rather serious place but very New Yorky.
Market restaurant on the avenue Matignon
On your heels again ladies, and we will head to
ART ELYSEES
on the Champs Elysées and then to SHOW OFF right across.
You're half dead by then and have seen wonders but it isn't over yet; dive into your mat black Phantom just delivered yesterday by the Rolls Royce factory .
Your all white chauffeur will take you for a highly deserved high tea at the
CAFE MARLY
as you've haven't had enough yet of faces to see ! We all know it's the most tiring day of the year: the FIAC day.
Darjeeling and Oolong have made wonders on you and you're only steps away from la Cour Carrée du Louvre for some young artists .
Café Marly