I could call it
"Portrait de Rue"
.
Rue de
PASSY
is one of PARIS's fun streets one enjoys strolling on : quite a kingdom for shoes ( more than 7 stores) , "it" and not "it" bags from Darel to Le Tannneur (ugh!) , clothes of all kinds: it caters the "bourgeoise" the "mother and daughter" couple like in the Comptoir des Cotonniers ads ( the brand must have invented it for that street I bet !) , costume jewellery , interior decoration for the Thirtysomething, fragrances and cosmetics for all ages, a few cool joints for a snack or a coffee, lovely girls to look at, in all, a lively atmosphere but also a place where you have everything at hand.
So convenient to live nearby.
Let me be your guide along the
Rue de Passy
.
We'll start by the all-round Place du Costa Rica : no palm tree in sight, no lush countryside at hand, but a huge Armani billboard wall ad to let you in the know that it is either Armani or
nothing
. Armani isn't even close by; so let us be, Mr Armani.
CARLIN
: every little silly thing for your desk, for your "it" bag is there: Hello Kitty stuff, all kinds of brain books, papers in all colours: heaven.
Carlin
the welcome
home of
knick knacks to play with; such as phone covers: I'm dying to have a diamond one
Rue de PASSY
has gained very recently a strong tendency to go GREY. All kinds of grey. It has also gained a bad tendency to mix nice trendy boutiques with real shitty ones so cheap you wonder where you ended up.
That's life I presume !
At least it really makes no difference against the paved street.Specially on a rainy day.
If you feel too miserable already by my small talk stop by the
Cave de Passy
and try their excellent white Limoux which holds in its depth ( the bottle's or your glasses's ?) all the Chardonnay fruity flavours .
VILLA PASSY
, next to the local Blockbuster is a friendly and simple joint to have a light lunch or outside dinner; in warm weather, you could even pretend the courtyard is your own.
And they'll serve you the best Club Sandwich on the street with a super juicy coleslaw. Worth it !
The Ali Baba treasure cave by excellence ! Ouh ! All that
turquoise
! Looks like that all so blue
"House of
Turquoise"
blog that you'll find in my favourites. It's all at the
ENTREPOT
where obviously Xmas will be slightly
turquoise
this year !
A little silver will add some depth and contour. Whenever you're looking for a present dash straight to the ENTREPOT and you're sure to find a little something right in the perfect colour to suit your guest. They also carry the Geodesis candles which last so long and are of such quality and such a change from the omnipresent Diptyque. Depends if you're in the mood not to follow the herd !
SEPHORA
, the King of Make-Up who makes you a Queen ! ouh ! That's an easy one . And rather stupid, I admit ! Sorry Girls.
Always fun to notice their colour marketing scheme ranging from
dark pinks
for women's perfumes, to
blue
for men's and
green
for skin cosmetics. Instead of having your nose furrowed right into the beauty counter hold it up a little and look up at "the SEPHORA codes" .
New T-shirt every so often worn by the beauty counsellors; so studied. And owning their gold card, so more enhancing then that awful green basic "vitale" card, you always have the feeling of gaining something free... every time. So.... indulge freely !
Makes you want to play for hours. Better then playing at the fishmonger !!
'Bonjour Madame, quel rouge à lèvres voudriez-vous essayer today ? "
"Celui là, le grenat, vous va à merveille."
Merci Madame, Have a good day !"
Makes you want to go on the slim side of things ? I don't know why, I just DON'T look like any of those ostriches on the covers ! Musn't be for me , Thank that god God friend of mine . So, don't expect me to tell you what's inside, why don't you just go and buy it yourself and then leave me a comment so that it can be of use to the whole community of us, beautiful girafes !!!
Can't miss it, they're open even on Sundays in case you missed a pair.
PATRICK GERARD
is the prince of cool casual wear with a feminine touch. A subtle mix , subtle way of making you buy the whole outfit ( there are at least 5 layers to wear) . Clever . And great. You'll be sure to get a few compliments; so why postpone that moment ?
http://www.patrickgerard.com/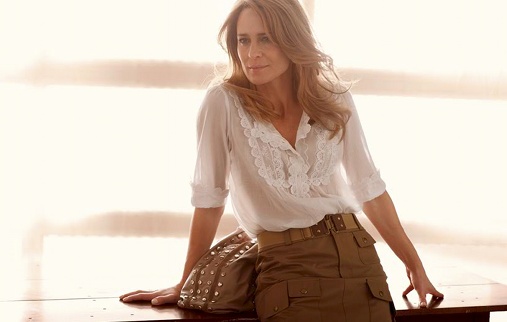 Gerard DAREL
is another favourite of feminine cool wear. So is
PAUL and JOE SISTER.
http://www.gerarddarel.com/
COS
, the working women line from
H&M
has just opened a few yards away. Grey store there again; I told you,
PASSY
has turned all Grey .
You thought that was Basquiat in a new tag mood yet unheard of ? No, Kiehl's.
Forgot to tell you that Kiehl's has come to save our skin .
"A company with a conscience"
http://www.kiehls.fr/
They're both charming places which make you forget the bustle of a city.
See you around for another shopping spree. First I'll let you take the time to explain to Darling Boy where you spent your afternoon !