You've been cooking like a crazy for Xmas , had almost a breakdown from all that hastying, from these 84 hours in the kitchen, so now it's time for you to sit back and enjoy !
How is one to choose from all those Paris restaurants ?
Here is a small list :
- A Room with a View
:
" LES OMBRES"
close enough to big Sis Eiffel Tower and with breathtaking views on Paris's skyline.
A bit chilly to be out so I'll show you inside; follow me !
Restaurant
"LES OMBRES"
Dazzling, right ? Excellent Meursault....
Restaurant "Les Ombres"
Deco : Jean Nouvel
http://www.lesombres-restaurant.com/
LES OMBRES
27 Quai Branly
75007 Paris
Tél: 00 33 (0)1 47 53 68 00
-
On Ice
:
" LE KUBE"
Chill out with your ugly Ugg's on for a 30 mns vodka shot at the icy freezing cold Ice Bar . ( It will melt all that fat we carry on like a mammoth since that damn 24th !)
Chill out at the bar of
THE KUBE
Hotel Kube
1-5 passage Ruelle
75018 Paris
Tél. 01 42 05 2000
http://www.kubehotel.com/
-
Exotic, Hot and Spicy
:
THE BLUE ELEPHANT
Hardly know where you are , right ? Bali or Tasmania. No, Paris.
At the BLUE ELEPHANT
Looks good to me !
The Blue Elephant Restaurant
43-45, rue de la Roquette
Paris (XIe).
Tél. : 01 47 00 42 00.
-
All That Jazz
:
M64 at the Intercontinental Marceau
Jazzy and elegant : that will be your night out in the Triangle d'Or with langoustines carpaccio, Saint Jacques with black truffle ( remember to check on "Ronds de Sorcières" website for more info on truffles) .
M64 Restaurant at the Intercontinental Avenue Marceau
64, avenue Marceau (VIIIe).
01 44 43 36 50.
Russian Roulette
:
LE DIAPASON
or Fiddle on the Roof ?
Set on the roof of the Terrass Hotel in Montmartre, you can hardly get higher in Paris !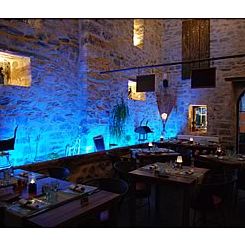 Blinis and caviar will give a last homage to this Year of Russia.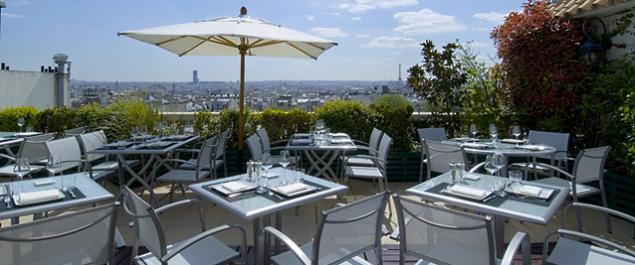 Sorry, that's in Summer Honey ! You'll come back !
LE DIAPASON
Le Tearrass Hotel
12-14, rue Joseph-de-Maistre (XVIIIe).
Tél. : 01 44 92 34 00.
I wish a great evening out !
HAPPY NEW YEAR TO ALL OF YOU !