You feel a real passion for music and design? This hotel is for you.
3 words to seduce their guests:
art, well-being and escape
because it turns your holiday into something extraordinary and memorable.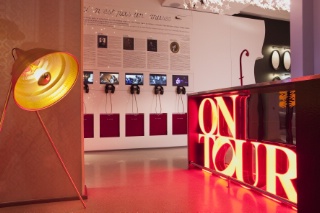 The flight desk and behind, a wall with headphones so that clients can take a moment to listen to music while waiting for a taxi as it usually takes about a half hour !
Each room has been created by musical artists. Manu Katché has elected bass cases as night tables, MC Solaar's is all white and black sobriety, Jacques Higelin's is the most mysterious with a giant white piano drawn on the wall.
" Without music, life would be a mistake"
said Nietsche. At the Hotel du Triangle d'Or, they sure heard him !
HOTEL DU TRIANGLE D'OR
6 rue Godot de Mauroy
75009 Paris
01 47 42 25 05
http://www.hoteldutriangledor.com/