Latest exhibit at the Museum of Modern Art in Paris :
HAUTE CULTURE : GENERAL IDEA.
Autoportraits of the artists Felix Partz, Jorge Zontal and AA Bronson as poodles .
Conceptual art requires a great deal of patience. I always wonder why I should stand around in a museum looking at murky photos of some performance that happened years ago or reading long texts about a work that is meaningless without an explanation when I could just as well be reading about it on paper or a computer screen in the comfort of my own home. After all, this is art made to inspire thinking, not looking.
There are many rewards to be had, however, in the new exhibition called
"Haute Culture: General Idea"
at the Musée d'Art Moderne de la Ville de Paris, a retrospective of the work of an artists' collective called General Idea (the name was meant to contradict the idea of the artist as genius). The three protagonists – Felix Partz, Jorge Zontal and AA Bronson – lived and worked together in what seems to have been – judging from their output – a funhouse frenzy of creativity, producing a wildly varied body of work: paintings, photos, magazines, installations, sculptures, videos and more.
Never heard of
General Idea
? Neither had I, perhaps because it was based in Toronto (sorry, Canada) or perhaps because Partz and Zontal haven't been heard from since 1994, when they died of AIDS.
Even if you have never heard of them, however, you certainly will have seen their clever transformation of the four letters of Robert Indiana's famous "LOVE" image (first created as a Christmas card for the Museum of Modern Art in 1964, it was never copyrighted and went viral after being used as a U.S. postage stamp) into "AIDS" in a very nice ironic twist that is typical of the witty, iconoclastic art of these three.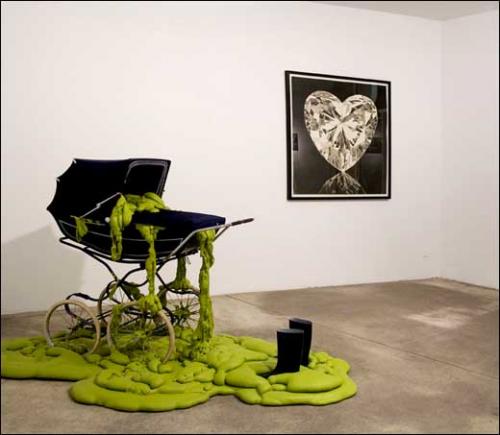 General Idea
mocked not only mass culture, but also Art with a capital A.
The trio re-created Yves Klein's famous "Anthropometries," for instance, by making their own version, "XXX (Bleu)," in which they replaced with their fetish poodle the naked women that Klein dipped in his signature blue paint before making them roll around on canvas (the poodle represents the Artist in General Idea's symbology). In a copy of a Mondrian painting called "Infe©ted Mondrian," a patch of yellow is insidiously replaced by green, a color the artist never used.
Source :
http://www.paris-update.com/
HAUTE CULTURE : GENERAL IDEA
till April 11th, 2011.
Musée d'Art Moderne de Paris
11 avenue du Président Wilson
75016 Paris
01 53 67 40 00
http://www.mam.paris.fr/