What a mess ! Hope this is nobody's dressing room ! .....
This is
KILIWATCH
: the PARIS vintage emporium.
And look at this tie rack ! Thank God my Man is not that disorganized ! I would go nuts !!!! ......
This is
KILIWATCH
: a heaven of clothes.
I'm kidding of course. You land there in a store without limits, going from one room to another, then yet to another treasure cove of clothes. It's just so much fun and so exciting ! You will have hours of fun hunting in that jungle with your hands as machetes to get that particular hanger with the red and black coat.
The clothes are stacked by colours, very ingenious process so that you go through all the colours.
You start at 11 am and then get so much into a Vintage transe that you forget that you're having lunch at 1pm with all the gals in rue Montorgueil.
I just told them to clean up their ass , see below !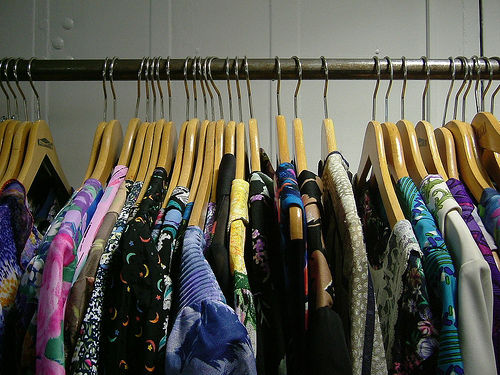 A few rules of thumb though :
- never go with a set idea in mind, you would be disapppointed. Let your mind flow with the clothes.
- buy because it's cheap ? nope : it'll look like a dead corpse in you closet as you won't ever wear it.
- hunt ie go for what's hidden.
- have a budget in your wallet .
KILIWATCH
64 rue Tiquetonne
75002 Paris
01 42 21 17 37
espacekiliwatch.fr