First things first : take your phone in hand and dial the number : 01 45 66 09 01 and make a reservation for as soon as possible, in other words, tonight .Remember, by that kind piece of advice, I am just becoming your best friend !!
Now we can talk.
The CASSE–NOIX is a typical and irresistible "gastroquet". what on earth does that stand for ? You'll know tonight if you did manage to book a table.
A mix in between a very Parisian bistrot and a gastronomic top restaurant. How does that sound to your palate ?
Let's get to the serious stuff : what do we eat in that bloody joint ?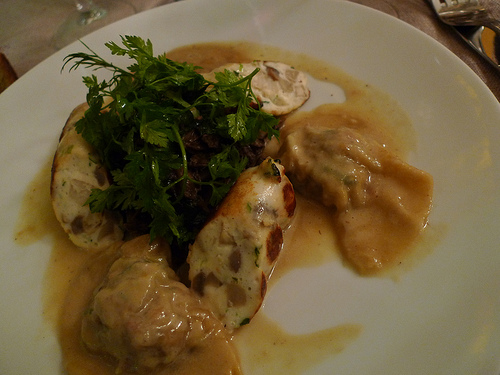 You'll go nuts on the "joue de boeuf", all melting under the tongue with its fresh little veggies. the poitrine de cochon ibaiona on a saurkraut made of turnips, heavenly peppered and the must is to end that ordeal with the île flottante. Every foodista in Paris has already tested their île flottante
No wonder our palates go besirk, the chef, Pierre-Olivier Lenormand, has given a good try at La Régalade.
This more than authentic bistrot is all old Paris charm with large clocks on the walls with their rusty needles hardly fending their way through the hours,the aged Suze ads date from the 50's.

LE CASSE-NOIX

56 rue de la Fédération

Paris 75015

And for mouth watering reports, check out LE FOODING on http://www.lefooding.com/recherche/le-casse-noix.html