One cannot be but totally amazed by the intensity in ZAHA HADID's work.
This grand architect of our times already highly deserves a tribute.
She is a phenomenon. Hardly a human being with 24 hours a day, how can she do it ? Impossible. Where does she get the imagination, the energy ?
Zaha HADID is now 61 and has projects for another thousand years ! Every country wants her !
Now Paris hasthe honour to bear her MOBILE ART at the INSTITUT DU MONDE ARABE, thanks to Karl LAGERFELD and CHANEL. More about it later on in my post.
Light resemblance with the mouth of a shark !
The magnificent Zaha HADID opened her eyes in Baghdad before becoming a British citizen and the real diva that she deserves to be.
She embodies both artistic audacity and technical mastery, sobriety and exuberance, all mixed in ONE mind !
She studied mathematics in Beirut, architecture in London, and she then joined OMA , Ren KOOLHAAS's agency and finally opened her own agency in London in 1979.
Her style : New architectural shapes, audacious and aerial.
Her words : " Get the best of views from any possible angle ."
Cagliari's Contemporary Art Museum : the encounter between sea and art.
Dorobanti Towers.
Zaha Hadid really combines an unprecedented approach of acute and extremely sharp angles and points, sensual curves and bends with the help of technical prowess. What would have been impossible not so long ago is made possible with digital modeling tools and all the advances in construction techniques via computers.
She went through a few lean years before resurfacing with a tram terminus station in Strasbourg which bears a resemblance with a skate board ramp, she has just finished the CMA tower in Marseilles which is almost as tall as the basilica ; couldn't possibly make it higher than Marseilles gardian. A little decency !
"Why use a right angle when one can do otherwise ?"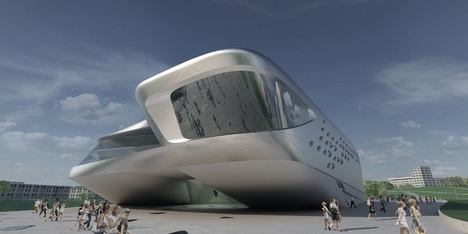 The OPERA IN DUBAI playing with the sand dunes.
Black and White magic for the Manchester Concert Hall.
MOBILE ART has travelled the world from Hong Kong, Tokyo to New York but for economical crisis reasons quite clear to feel in the air, it will remain in Paris as an exhibit site. Good for us !
You walk in , you are given free headphones and then you enter Zaha HADID's tall world of crystal clear skyscrapers, only to come out totally captivated by the rock star of deconstrustivism.
You'll head straight away to the nearest computer to learn more about her !! Just like I did !
Not to be missed … And the exceptional view on Notre-Dame seen from her backbones sends shivers in your spine.
Don't hesitate to have a delicious lunch at the ZYRIAB on the 9th floor : it's tasty, it's Lebanese from NOURA, the view is spectacular and you'll feel happy. What more could you ask for ?
ZAHA HADID : UNE ARCHITECTURE
till October 30th, 2011.
10 am to 7 pm except Mondays.
INSTITUT DU MONDE ARABE
1 rue des Fossés Saint Bernard
Place Mohammed V
PARIS