Now that William and Kate have put NORTH ISLAND on the map, let's have an insider's look.
Hard to get to ? No runway for your own private A380 ? Honey, take the helicopter and no fuss please. Say "Thank You" : it costs an arm : the figures on your Amex ? : 14 950 €. Get it Hon ?
Time to land
Time to ponder
Time to talk
Does that kind of "blue" suit you ? The pool has been constructed so as to respect the rocks and trees around, to fit in perfectly in the scenery. So do you ( fit in the scenery).
Time to reflect
Early morning sunshine, a 675 pages book in hand, a little intellect will not hurt.
North Island privacy.
Time to relax
Chardonnay on the rocks ?
Time to relish
Exquisite and original food in the middle of the jungle .
Time to spa
Massage and aromatics , thanks to Dr Hauschka.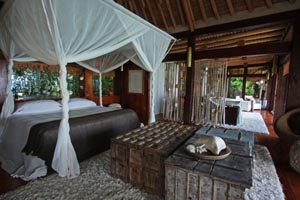 Time to …
No comment …
Time to romance
North-island Sunset, candlelight and the Love of your life.