Early September in Paris sounds like a turmoil of events; not only because you want to show off your Maldives tan, but there is a rush on all that looks or feels like a cultural or fun sting ( would your vacations have been boring, Darling ?!) :
Maison & Objet , Paris Design Week, Fashion Week with its VOGUE FASHION NIGHT in tow, and for the sports girl in you, running LA PARISIENNE.
Hard to get organised in such a month . I'll let you deal with it !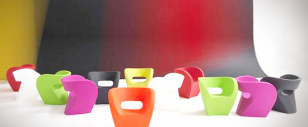 Those armchairs remind me of gum little bears.
100 sites of Design, 1 week to see it all, 6 huge Paris arrondissements : get a good pair of walking shoes first. Then, we can start talking !
Check http://www.parisdesign.fr for more info.
The dates : September 12th till 18th.