" Transmigrations India Song et Villa Savoye " by Karen KNORR : long title for a few birds lost in the bright coloured Indian palaces. Stop being ironic Fidji.
I can't be as I do highly admire her work, be it in the chateaux de la Loire or in London.
We, Parisians, are lucky enough to be able to see her newest trends in her work at the Galerie des Filles du Calvaire till November 19th, 2011.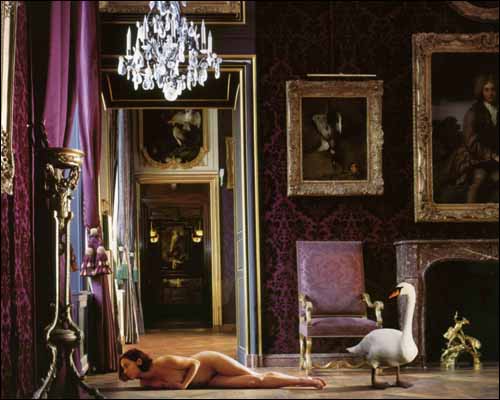 Karen KNORR made also some photographs at the Musée de la Chasse.
Best said in Karen KNORR own words from her website :

"Karen Knorr celebrates the rich visual culture, the foundation myths and stories of northern India, focusing on Rajasthan and using sacred and secular sites to consider caste, femininity and its relationship to the animal world."......
Animals photographed in sanctuaries, zoos and cities inhabit palaces, mausoleums and holy sites, interrogating Indian cultural heritage and rigid hierarchies. Cranes, zebus, langurs, tigers and elephants mutate from princely pets to avatars of past feminine historic characters, blurring boundaries between reality and illusion and reinventing the Panchatantra for the 21st century."
All her animals evoke human traits, like in Les Fables de la Fontaine : stuck up, slouchy, fox like.
Karen KNORR was born in 1954, brought up in Porto Rico ( would her love of colour come from there ? All the small cobbled streets of San Juan in Porto Rico are all fringed with lovely brightly coloured houses.)
Talking about "birds" ? What kind of bird is that ?
All pictures Karen KNORR copyright.
http://www.fillesducalvaire.com
GALERIE DES FILLES DU CALVAIRE
17, rue des Filles du Calvaire
Paris- 75003
Till November 19th, 2011.