" The Cry" : best know work done by Edvard MUNCH. Don't stop at that, there is so much more to this desperate artist, and the CENTRE POMPIDOU exhibit presents a fantastic display of his life work.
The colours are so vivid that you could well hang them on your own walls, the drama is genuine and strong, the intensity is palpable.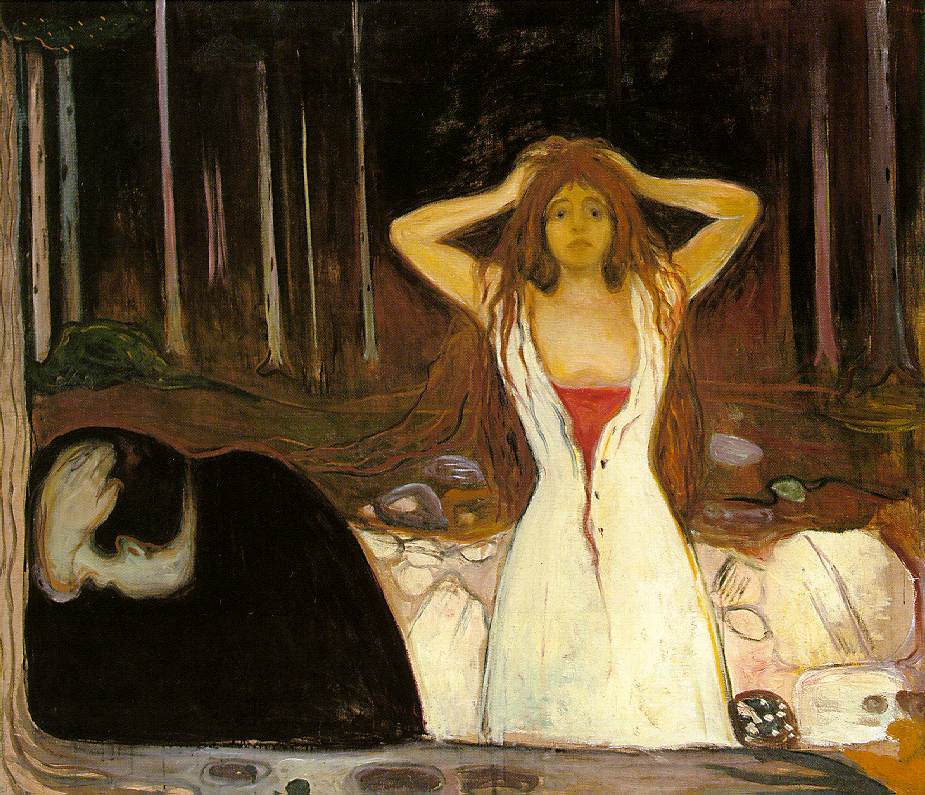 Ashes
Munch was born on Dec. 12, 1863, in Loten, Norway. He grew up in Christiania (now Oslo). Munch's parents, a brother, and a sister died while he was still young, which probably explains the bleakness and pessimism of much of his work.
Paintings such as The Sick Child (1886), Vampire (1893-94), and Ashes (1894) show his preoccupation with the darker aspects of life.
Munch traveled to Paris in 1885, and his work began to show the influence of French painters--first, the impressionists, and then the postimpressionists--as well as art nouveau design. Like many young artists Munch reacted against conventional behavior, and in 1892 he took part in a controversial exhibit in Berlin. His circle of friends included several writers, one of whom was the Norwegian playwright Henrik Ibsen. Munch designed the sets for several of Ibsen's plays.
Between 1892 and 1908, Munch spent much of his time in Paris and Berlin, where he became known for his prints--etchings, lithographs, and woodcuts. After 1910 Munch returned to Norway, where he lived and painted until his death. In his later paintings Munch showed more interest in nature, and his work became more colorful and less pessimistic.
Munch died in Ekely, near Oslo, on Jan. 23, 1944. He left many of his works to the city of Oslo, which built a museum in his honor.
Parisians are lucky enough to have such art work available , so please, have a go at it. And enjoy !
CENTRE POMPIDOU
till January 9th, 2012