For more than 30 years, Goude's private life and work have been inextricably linked, and as a result, his work has become a running biography of the childish reveries of early years, his complicated relationships and his exotic fantasies.
Born on the outskirts of Paris, in elegant Saint-Mandé from an American Mum and French Dad , he was called "le lutin sautillant" , the jumping elfe, and mixed sexy with comic in almost all of his photographs.
Vanessa Paradis in a bird cage : him.

All the Galleries LAFAYETTE ad campaigns : him.
Jean-Paul GOUDE hiding most of Laetitia CASTA in a bag.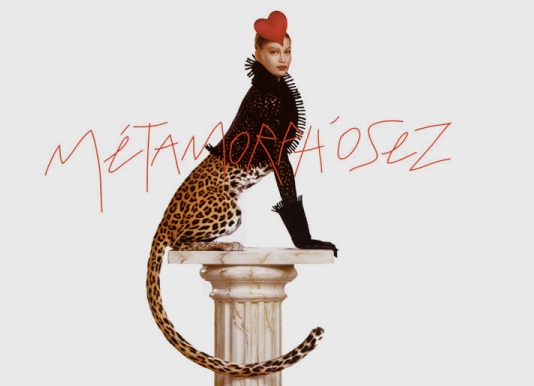 From an interview with WWD :
WWD :
"You are obviously well known for your relationship with Grace Jones, whom you have described as "beautiful and grotesque at the same time." It's also been reported that you both sort of used each other to advance your respective careers. How did it all begin?"

Jean-Paul Goude:
" In 1977 or '78, I met Grace and it was a period of decadence. People were still doing lots of drugs and I had been working so hard for so long and she made me part of her lifestyle, made me go out dancing at Studio 54. She became an obsession and we did everything together. We both had our moments of weakness and when she announced she was pregnant, I had no intention of staying with her; I wasn't happy with it. But she had the baby and then I became very soft and tender. I did [the book] "Jungle Fever" to keep sane. And things became so bad, I had to leave [Grace]. But I did my best work with her and we're still very friendly. She is great."
"I was an illustrator, who illustrated the fantasies of others, I became naturally a creator of images" he said. At the time he was working for New-York Magazine
.In 1983, he published his autobiography entitled "jungle fever" and directed the movie "el flamenco" using the concept "shake me" invented in 1972 1972 by Georges Petit and designed the new visual graphic for Kodak: "sprites escaping from a slide".
His movies are close to his personal works and illustrate his taste for bodies, exoticism, music, danse, and fairy tales.He describes his silent movies as ballets or mime shows.
The eccentric colors of his artworks served prestigious brand such as Perrier, Citroen or Chanel and were worldwide broadcasted.
In 1989 , for the bicentenary of the french révolution , the French government intrusted him to conceive a huge procession on the Champs Elysées, which contributed to his popularity.

In 1990, for the Chanel 's Egoist perfume, he directed a movie beginning as a tragedy in B&W, and changing to color , to finish as a ballet."I think it 's my best movie, I mean my best ad movie.." Graphis magazine May/June 1992.

In 1991 on Jean-Luc Lagardère's request, he designed the logo of the "fifth" channel TV.
The following year, he shooted the photos and the movie for Chanel 's Coco advertising campaign with Vanessa Paradis, the new Chanel's egery, who swinged in a bird cage. Then after he transformed Carole Bouquet, Chanel 's ambassador, into Marylin Monroe for Chanel n°5.

Since 2001, he has been Art Director for the Galeries Lafayette's advertising campaign, about which he said :"I wanted to go against the general trend, everything one could see at this time". His ads are full of happiness and freshness like the serial in which Laetitia Casta plays all the roles of a heroine(the bride, SantaClaus or the dandy).

Les Arts Décoratifs - Nef
107 rue de Rivoli
75001 Paris
Tél. : 01 44 55 57 50
Métro : Palais-Royal, Pyramides or Tuileries
Musée des Arts Décoratifs till March 18th, 2012