Hard to decide who to flashlight ; like when you're in a shoe store, which pair to choose ; ghastly choice, let's face it. Vital existential dilemna.
Plunge Girl, well, me, in this particular case.
So there you go with my very own PARIS-PHOTO :
Giorgio and I, ( Armani, of course , I only pick handsome fellows in case you didn't know, no time for creeky ugly stuffed buddies ) have the same tastes : he picked for his Acqua Foundation the same photographer I chose ( or is it the other way around ?) :
- Hiroshi SUGIMOTO
Hiroshi SUGIMOTO – Caribbean Sea Jamaica
Water and air. So very commonplace are these substances, they hardly attract
attention―and yet they vouchsafe our very existence.
"Mystery of mysteries, water and air are right there before us in the sea. Every time I view
the sea, I feel a calming sense of security, as if visiting my ancestral home; I embark on a
voyage of seeing."
Hiroshi SUGIMOTO
Lightning Fields, 2009
Whether making ultralong exposures of movie screens or photographing museum dioramas to look like real scenes, Hiroshi Sugimoto has always used his camera to explore unseen phenomena — artifacts of time, light, the elements, and human perception. But for his latest project, called Lightning Fields, the award-winning photographer traded optics for electricity.
- Sebastiao SALGADO :
Sebastiao SALGADO
Southern right Whale, Patagonia –2004 – Sebastiao SALGADO
Brazilean photographer Sebastião Salgado has never been the kind of artist who shrinks from big issues.
During his 35-year career, he has specialized in long-term, self-assigned projects during which he spends years traveling thousands of miles to document a single theme.
Workers, a seven-year project completed in 1992, focused on laborers in 26 countries.
Workers
Workers
Migrations, which he started in 1993 and finished in 1999, examined the vulnerability of refugees, economic migrants, and other displaced people in some 40 nations. The critical and popular success of these collections has made Salgado something of a photojournalist rock star.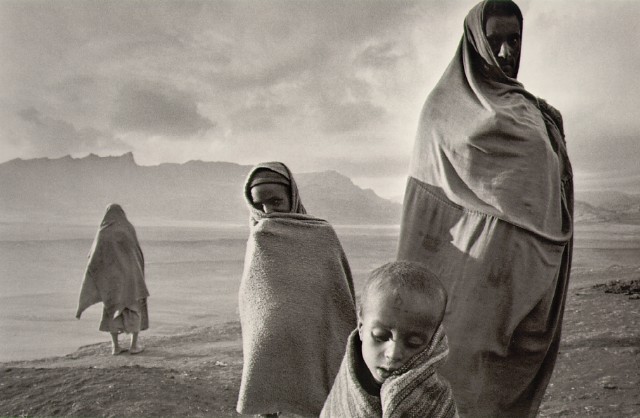 Migrations
His meticulously composed black-and-white photographs – often with the subject backlit, so as to sharpen shapes and heighten emotion – carry an almost unbelievable drama. Many of his images have become icons.
Now, Salgado is turning his camera to the subject of the natural world – or what's left of it. His latest project, called Genesis, is an effort to document the pristine vestiges of the planet. He started on Genesis in 2004 and expects to have it finished by 2012. When completed, the project will tell the stories of 20 unique places that have somehow avoided the mark of human development.
- Yang YONGLIANG :
the sunk ship (detail)
ink-jet print on fine art paper
50cm x 304.6cm
2008
"In the first creation of Phantom Landscape I used 'Mountain Water' a symbolic element of China. This title includes two things literally: one is the City I live in, the other Mountain Water (meaning Landscape in Chinese). City is the place I inhabit, a place growing with me and which contains my memories. A mirage or Phantom (City) is a desired state or environment which I've only imagined. Mountain Water (Landscape), the imitation of the traditional art from my childhood as well as the art form that is disappearing with the city and I growing. The birth of Phantom Landscape doesn't come up by accident.
Du ZHENJUN
- Olaf OTTO BECKER :
Iceland and Greenland through the freezing eyes of German photographer Olaf Otto BECKER. "Above Zero" : a serie on the ice world.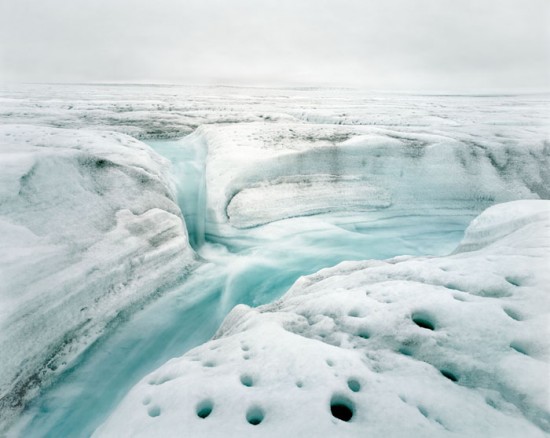 - Fouad ELKHOURY :
Fouad ELKHOURY – Corniche – Beirut Sombres
- In SOOK KIM :
Saturday Night - In Sook KIM
In her series Saturday Night, In Sook Kim realizes the fantasy of every voyeur: on a Saturday night, the 66 rooms of a hotel shamelessly unveil their large bay window, exposing the intimacy of their occupants: in every room, a scene is meticulously reconstituted and the residents are going about their business however not always in the most innocent matter: sex, drugs and rock n` roll…every human vice is exposed.
In Sook Kim defends her position as an observer by explaining that she doesn't interpret nor does she criticizes, she watches. Her photographs with evocative titles offer a sarcastic description of the human condition.
The final image is a true piece of art, a technical masterpiece with rare complexity which required more than four years of work.
Saturday night – In Sook KIM
- Henri FOUCAULT :
Like Vera LUTTER, Henri FOUCAULT prefers life in white on black, in perfect magical shadows.
- Vera LUTTER :
- Irene KUNG :
Chiaroscuro at its best
Duomo - Irene KUNG
- Massimo VITALI :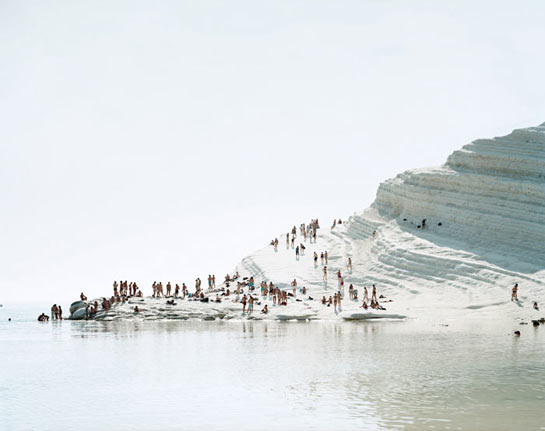 Iceberg
"So there I was, with my large camera, a large tripod and an even larger curiosity as to why hoards of people had voted for Berlusconi. The most sensible move seemed to be to place myself right up front of these people, to stare at them in the face, in their most vulnerable, defenceless state. The beach is a common place where the best and worst, the banal and mundane merges. On the beach Italians paradoxically represent innocent bareness, a reconciliation with nature, along with pathetic hedonism.
My photography comes from absolute matter-of-fact situations but also from a deep curiosity that I possess for people, for what they do and how they think."
Massimo VITALI
In the spirit of a Andrea GURSKY