Sofia COPPOLA's , as a first-time curator , has ciseled a very fashionable selection of Black & White photos by Robert MAPPLETHORPE at Thaddaeus ROPAC Galery :
Andy
Katherine Cebrian – San Francisco socialite who used declare peremptoraly :
"I don't even butter my bread, I consider that cooking."
and Marisa Berenson
Paloma PÏCASSO – where has her red red red lipstick gone ?
" Enlarging photos make them more powerfull" -Robert MAPPLETHORPE
When one hears the name of Robert MAPPLETHORPE , one pictures immediately sharp black and white almost pornographic photographs of Lisa, the 1st body-building champion ( perfect technical body curves as on an anatomy chart), Milton, Mappletorpe's lover or of Thomas and Ken, 2 perfectly muscled Black models.
And apart from his detailed photos of flowers, MAPPLETHORPE enjoyed capturing celebrities and real people, until he died at 43 in 1989.


7 rue Debelleyme, Paris 3e.
From Tuesday to Saturday 10am to 7pm.

Until January 12, 2012.
And off to lunch at Le MARCHE DES ENFANTS ROUGES on the rue de Bretagne.
Dilemna : which food stand to choose ?
First off, a little history to get everyone situated. Marguerite de Navarre, sister of King François the 1st and mother of King Henri the 4th (who was the one to end the religious wars that had been bloodying France), was a very well educated, politically engaged and charitable member of the royal family. In 1534 she had an orphanage constructed in what is now the Marais whose little pensioners were dressed in red as a symbol of their status. The orphanage was closed in the beginning of the 17th century and in 1615 was transformed into a market dubbed the Marché des Enfants Rouges (market of red children) to commemorate the charitable establishment that had occupied the site for almost a century.
from http://www.parisiensalon.com
It remains a market today and has been on the list of national historical monuments since 1982. Today, neighborhood locals still congregate to shop for produce and fresh products, to have a coffee and to converse with other locals, old-timers and merchants.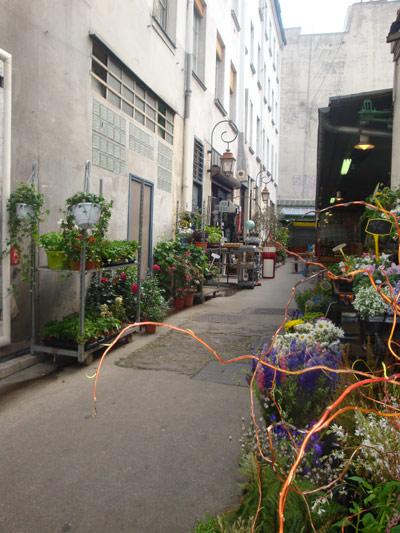 What is interesting about the marché now is the diversity of its different merchants and products.
An Afro-Antilles café serves up delectable bites to hungry shoppers;
photo credit - Melissa LADD
the friendly owner of the Italian booth proposes Illy café on its year-round terrace and will advise you exhaustively on his wines (for which he has a secret passion); a Breton will whip you up a crêpe (but don't photograph him without asking, he might squawk at you); Moroccan delicacies tempt you from one corner while Portuguese and South American products beckon from the other…
You can even browse an antique shop or park yourself on a bistrot terrace in the back. People even actually still come here for their weekly produce runs, for goodies from fish to flowers to figs.
Located off of the Rue de Bretagne in the 3rd arrdt and opened :
Métros : Arts et Métiers (line 11 & 3), Temple (line 3), Filles du Calvaire (line 8).