"Look, I'm not an intellectual. I just take pictures." -Helmut Newton
Love him or hate him, it's hard to argue the influence Helmut Newton has had not only on the image of women but also on the evolution of fashion photography . Through his provocative and sensual images which critics say borderline pornography, a Helmut Newton photo can be easily recognised.
Born on October 31, 1920 in Berlin, Helmut Newton grew up in a privileged family and pursued an apprenticeship in photography with Elsie Simon, a top photographer. Helmut then had to flee from Germany due to Adolf Hitler's violent treatment of Jews .
He landed in Singapore for a while and then moved to Australia in 1940.
There, he settled and built a new life with his wife, June Brunell. He continued following his passion for photography, eventually getting his work to appear in top fashion magazines around the world.From his small photo studio that he built in Melbourne, he eventually got the creative momentum that led him to get his photos published in French Vogue in 1961.
From there, his name became synonymous to the magazine's look and feel, leading to more work for other magazines such as Nova, Queen, Marie-Claire, Elle, Playboy and different editions of Vogue.
His provocative photos of women earned him the titles "Prince of Porn" and "King of Kink". This image of his kind of photography was cemented with the release of his book called "White Women," an erotic publication that defines his style and artistic vision.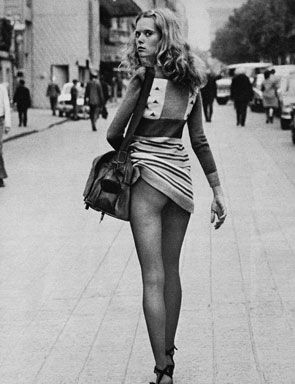 Helmut Newton images depicting women in men's clothing and depicting them as powerful figures, breaking all the molds built by society, made heads turned. It also led some people to ask for his head to roll. Even with all the controversy, he continued pushing the envelope in photographing women by taking images of nude bodies in provocative positions. It may have been met by scrutiny and rage in the beginning, but it eventually became the industry standard. His unconventional images of femme fatales made Helmut Newton a legend in fashion photography. Not even his death in 2004 would end his undeniable influence in how photography can exude power in women.
Newton died on January 23, 2004 lost control of his car, crashed into the wall beyond the Chateau Marmont Hotel and died of a sudden heart attack at 83.
GRAND PALAIS

March 24th till June 17th, 2012. Every day except Tuesday, from 10am to 10pm. Closed on May 1st.
Grand Palais, Galerie sud-est
Avenue Winston Churchill
75008 Paris