Today, when I opened my e-mail box, one mail caught my eye . It was coming from a friend of mine from Martinique, busy enough NOT to spend even a nano second to send me a mail of info. His mail said : "look it up":
"www.leboudoirdeserendipity.com"
So, I did.
May I present you "Le Boudoir Serendipity" ? :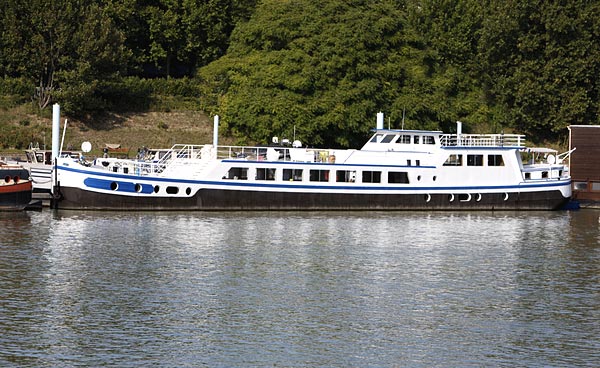 You couldn't guess , right ? Yes indeed, it is a "péniche", right down to its bow.
Ducks, swans and the like fowls flock the place. Pure heaven at a milstone from Paris. I wish I could indulge you into booking the place for Easter week-end but no luck: fully booked.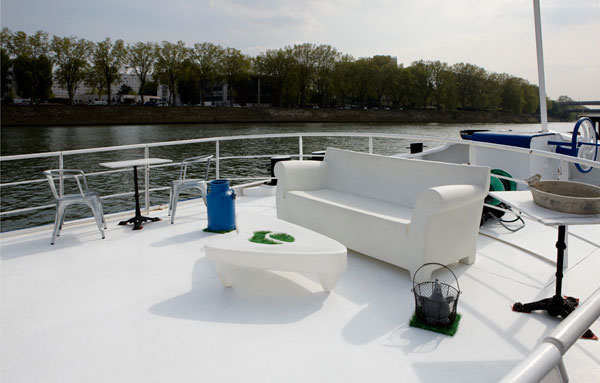 Design furniture …
Marie and George Mikael, after a few spent working like mad men, like all of us, settled for a better life, and made their dreams come true.
They gave birth to Le Boudoir Serendipity.
Why that incredible Shakesperian word ? "Serendipity" : unpronouncable by the regular French rogue !
You'll have to get to their web site to know the answer !
" The evening you arrive, you will be served bubbles and treats.
You will be able to have the morning break at the time you want (…you are here to have some rest) either in the boudoir or on one of the decks.
And you will be served a delicious gigantic breakfast made of :
soft brioche, fresh bread, home-made yoghourt, cheese, honey, fruits and others delicacies, everything made with a nice portion of pleasure and merry mood by
Marie's little hands. "
This is what you'll read on the web site .
" Comme un Doux Rêve"
" Songe d'une Nuit Etoilée"
"Des Rêves par Milliers"
3 romantic names for 3 dreamy bedrooms.
Time to get onboard, Folks ! Enjoy !
http://www.leboudoirdeserendipity.com/
By the way, Thanks Michel from Martinique !!!!