My son Nicolas, 22, big guy, is about to land in New York City to develop a new iPhone application "Fan of New York" for all those Frenchies leaping to the other side of the ocean for a gulp and glimpse of that fantastic city. And as he isn't short of ideas and has concocted a "Top" of NY's rooftops, I am copying his idea for Paris. With his agreement, signed…
LE QUARANTE TROIS COCKTAIL BAR at UPON THE ROOF
Spectacular view on Notre-Dame and the Paris monuments.
A well hidden secret address with the amazing cocktails of Mathieu Le Feuvrier .
A quick look at the booze bribery:
the ANNA K
Basil, herbes de Provence, lime, Midori, Tequila Patrón, green apple nectar, Schweppes Tonic

the REMEMBER
Herbes de Provence, lime, dark sugar, Angostura Bitter, lemonade

the FRAMBOISE TOI-MÊME
Fresh raspberries, dark sugar, raspberry sauce, Tequila, Angostura Bitter , pink champaign.

TAIS-TOI LAISSE-MOI FAIRE : Mathieu's own selection just for you! A mystery.
Thursday, Fridays and Saturdays on reservation only.
Holiday Inn- Notre-Dame.
4 rue Danton
75006-Paris
Essential : 01.81.69.00.60
LA VUE at CONCORDE LAFAYETTE
Concorde Lafayette – Porte Maillot- 75017 – Paris
TERRAZZA MARTINI CHAMPS ELYSEES
Almost like home. I wish! Nothing like it I'm afraid.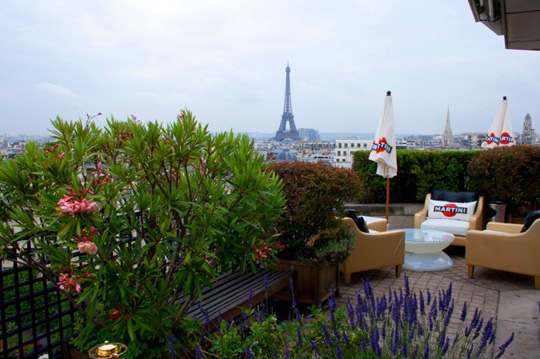 Another roof top for a stunning redish sunset.
Terrazza Martini Champs-Elysées
50, avenue des Champs Elysées, 75008 Paris
From June 11th till July 12th, 2012
http://terrazzamartini-champselysees.com/
Monday to Saturday 7pm till midnight.
On reservation only.
GEORGES at Centre Pompidou
Still a long time favourite! The view is one of the most spectacular in Paris, on the Centre Pompidou's roof.
Unmistakable Costes music of course, Costes atmosphere without a doubt, Costes prices unfortunately, Costes deco always at the top, Costes crowd Yeah !!!
Just great.
A run on the Beaubourg escalators ( allow for a good 10 mns climb from ground to roof) with at each step, a better view of the City of Lights.
LE GEORGES - CENTRE POMPIDOU
19 Rue Beaubourg
Paris
01 44 78 47 99