The Edward Hopper we all know seems like a friend of the Great Gatsby, fame in his path, and a real millionnaire from his art work.
Well, no.
He , poor guy, had to struggle to get where he is now, had to be an illustrator to pay the bills.
To some of us, Hopper was an illustrator from first to last, a just-O.K. brush technician, limited in his themes. His main gift was for narrative paintings with graphic punch and quasi-Modernist additives: Manet touches, de Chirico props. And like any shrewd storyteller, he knew the value of suspense. Reveal just so much of a plot — no more. Mystery keeps an audience hanging on.
"Hopper was the quintessential realist painter of twentieth-century America." say the critics. He had a hell of a time to get there.
He was born in Nyack, New York, in 1882. He studied at the New York School of Illustrating, and later at the more prestigious New York School of Art.
In the same year that his career first took off, 1924, Edward Hopper married Josephine Verstille Nivison. "Jo" modeled for many of Edward's paintings in the following years.
In 1967, Edward Hopper passed away, leaving us a wonderful legacy of fine art. His subject matter ranges from diners and restaurants, to rooms and houses, to women and other people. He painted cityscapes in New York, and many roads, lighthouses, sailboats, and other images of the sea from his summers in New England.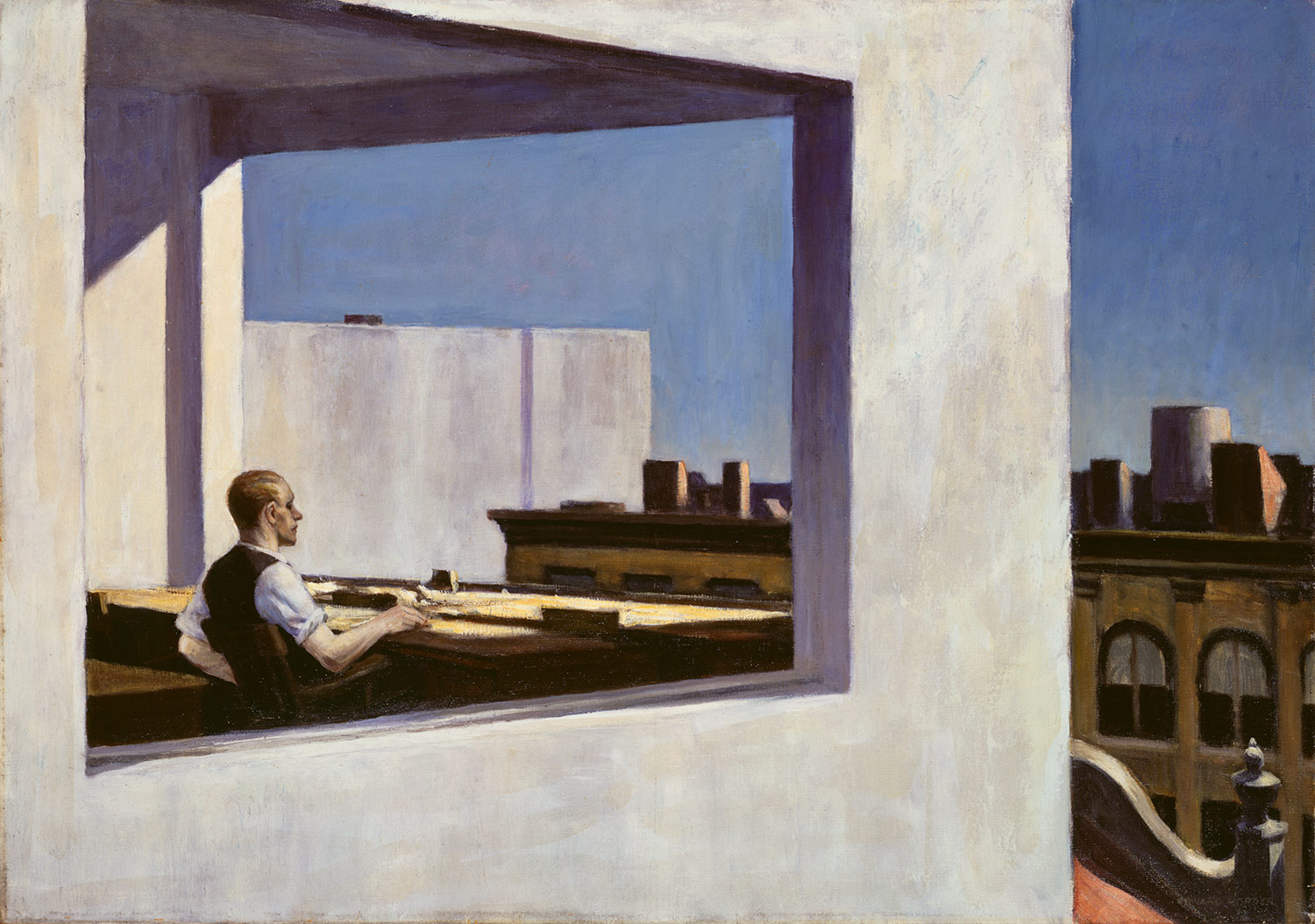 His chosen locations are often vacant of human activity, and they frequently imply the transitory nature of contemporary life. At deserted gas stations, railroad tracks, and bridges, the idea of travel is fraught with loneliness and mystery.
Other scenes are inhabited only by a single pensive figure or by a pair of figures who seem not to communicate with one another. These people are rarely represented in their own homes; instead, they pass time in the temporary shelter of movie theaters, hotel rooms, or restaurants . In Hopper's most iconic painting, Nighthawks , four customers and a waiter inhabit the brightly lit interior of a city diner at night. They appear lost in their own weariness and private concerns, their disconnection perhaps echoing the wartime anxiety felt by the nation as a whole.
The Hoppers spent nearly every summer from 1930 through the 1950s in Cape Cod, Massachusetts, particularly in the town of Truro, where they built their own house.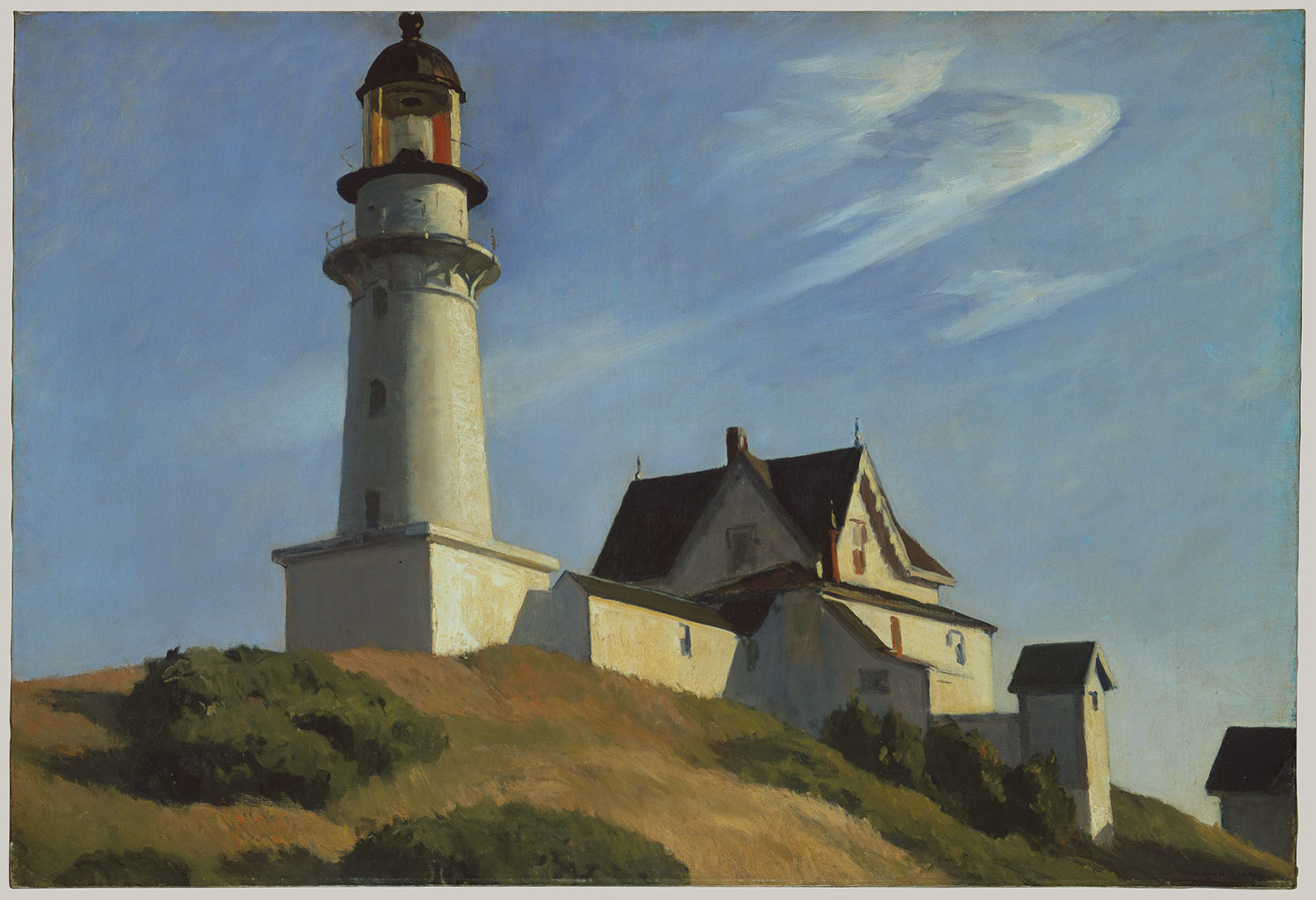 Hopper once said that, as an artist, the only thing he ever aspired to do was to paint "sunlight on the side of a house,"
Hopper the great at the GRAND PALAIS until January 23rd, 2013.
If you do NOT want to go with the herd, go on late nights, ie, on Thrusdays at 8.30pm, after a drink at the nearby Maison CHAMPS ELYSEES at 8, rue Jean Goujon. This quite recent hotel was decorated by Designer Martin MARGIELA. White and Black are his colours, definitely.
You seldom find such welcome than in this hotel. We ended up there at about 10pm after seeing the exhibit, a bunch of 16, hungry like beggers, and they made us all welcome, even though the restaurant was full, we could sit by the bar, and had some delicious tapas and good wine.
The cigar room for addicts !!
And the calm and peaceful terrace a few steps away from bustling Champs Elysées.
http://www.lamaisonchampselysees.com