- FIAC 2012:
October 18th till 21st, 2012.
As appetizer, the following.
An ode to the car industry ! Behold, it is not an eye, just a headlight.
The world seen thtough tins.
Flooding
Desperate for surfing
" PAR NATURE" at Le CENTQUATRE.
104 rue d'Aubervilliers / 5 rue Curial
75019 Paris
France
Till March 17th, 2013.
From Tuesday to Sunday from 3 to 7 pm.
Entrance fees: 7€.
A gigantic workshop, fit for monumental works : Le CENTQUATRE offers a new eye on NATURE felt through the veins of contemporary artists who question themselves on our coming back to the values of nature.
The result : a track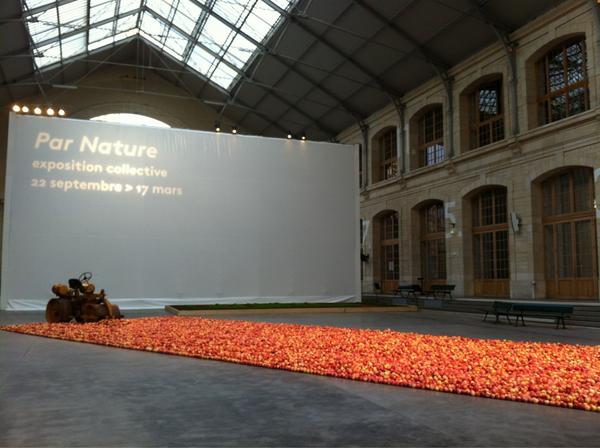 Gu Dexin and his appetising apple path yet to be crushed or our consumerism world ready to destroy the crops instead of giving them away to the needful. déploie un gigantesque parterre de pommes qu'il livre à un rouleau compresseur.
I know, it's a microphone. And yes, it actually is a piece of God damn wood. What's the story?
Chit chat between woodworms : the artist ZIMOUN let's us in into the invisible. You'll discover the incessant work of woodworms devouring little by little a whole piece of wood, and their distructive mission on earth, bloody beasts.
Baroda born and Mumbai based Hema Upadhyay uses photography and sculptural installations to explore notions of personal identity, dislocation, nostalgia and gender.
In the installation "This Space in Between You and Me", she questions the complex situation of immigration. Hema Upadhyay left her family in 1998 to live in Mumbay, she has never written them, but has always stayed in contact with them over the phone. There she has written them a letter they will never receive, a letter made of soil and seeds.
ADEL ABDESSEMED at POMPIDOU.
Shocking, provoking and violent young brat with a hard fist, ready to smudge everything on his path.
Till January 7th, 2013.
From Tuesday to Sunday from 11am to 9pm. Entrance fee: 13€.