Gone are the days when you would be like a left-alone asparagus at a table, trying to enjoy dish after dish, from appetizer to desert.
Far gone too the stiff, serious and pretentious white tablecloth. And disappeared the zealous and Red Army like waiter.
Welcome to the Paris TABLES D'HOTES :
"L'AGAPE SUSTANCE" .
Forget it if you want to stare at your girlfriend's blue amethyst eyes; this is not the place. Here, you will be part musician in an orchestra, part guest at a feisty dinner.
It is much of an experience, where you feel the racy peeling of the potatoes, the sharp and edgy cutting of a piece of veal, the smoothing and loving egg white beat, the sizzling bubbling of the butter in the pan before being hit by a handfull of snowpeas.
No Darling, you're not the cook; but, you're close! To him and his kitchen, wide open on to you.
No menu, no suggestions, just a dozen of chalk -white words on a blackboard : "Parmesan Cheese, calamari, pigeon, Saint-Nectaire, chocolate and red pepper.": those are some of the ingredients available tonight. As a master chef, our chef David Toutain will make out something sensationnal out of it.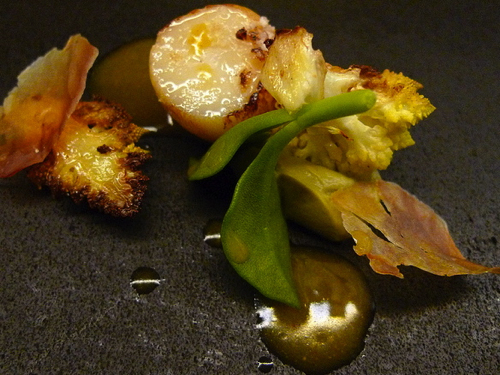 For once, you will be actually interested in the food, the making, the savouring, with the whole table, as there is only (well, almost) a long counter table for 26. It's fun to share, it's fun to talk to total strangers, to enjoy the food together, to make critical comments. Try it !
L'AGAPE SUBSTANCE
66 rue Mazarine
75006-PARIS
01 43 29 33 83