I bet you don't know him; never heard of him…Though he is a master of the XXth century.
For the first time, the Centre Pompidou brings together the work of one of the greatest painters of the second half of the 20th century, a master of abstraction: Simon Hantaï. Five years after the death of the artist, the Centre Pompidou presents a unique exhibition of Hantaï's work – the first in more than thirty-five years. Featuring more than 130 paintings produced from 1949 to the 1990s, this exhibition, unprecedented in its size and retrospective nature, bears witness to the importance and abounding richness of a now internationally-recognised body of work.
Simon Hantaï was born in 1922, in Bia, Hungary and died in Paris on 12th of September 2008; he had taken the French nationality in 1966 and is generally associated with abstract art.
After studying at the Budapest School of Fine Art, he travelled through Italy on foot and moved to France in 1948.
André Breton wrote the preface to his first exhibition catalogue in Paris, but in 1955 Hantaï broke with the surrealist group over Breton's refusal to accept any similarity between the surrealist technique of automatic writing and Jackson Pollock's methods of action painting.
In 1960, Hantaï developed his technique of "pliage" (folding): the canvas is folded and scrunched, then doused with colour, and unfolded, leaving apparent blank sections of the canvas interrupted by vibrant splashes of colour.
He stated: "The pliage developed out of nothing. It was necessary to simply put myself in the place of someone who had seen nothing... in the place of the canvas. You could fill the folded canvas without knowing where the edge was. You don't know where things stop. You could even go further, and paint with your eyes closed."
Hantai first started working on his folding method from 1960 to 1962 with the cloaks, a reference to the idiom of landscape.
From 1967 to 1968 he worked on the Meuns series where he studies the theme of the figure. Meun is the name of a small village in the Fontainebleau Forest where the artist lived starting 1965.
"It was while working on the Studies that I realized what my true subject was - the resurgence of the ground underneath my painting."
In contrast with the Meun, the figure, in the Studies, is absorbed and the white detaches from being the background and becomes dynamic.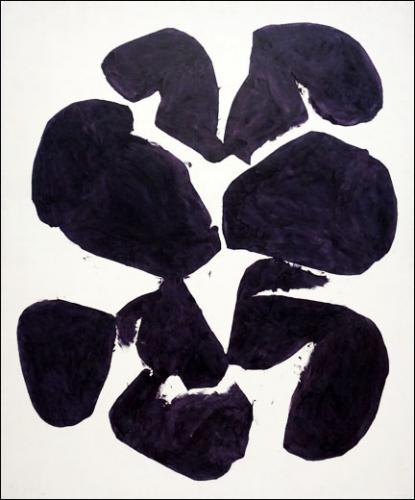 22 May 2013 - 2 September 2013
from 11h00 to 21h00
Galerie 1 - Centre Pompidou, Paris
13€, TR 10€ / 11€, TR 9€ selon période / Forfait donnant accès à toutes les expositions temporaires et aux collections permanentes du musée
Late-night openings until 11:00 p.m (last entrance at 10:00 p.m) every Thursdays.